Our webinars are very popular as you get the opportunity to interact with fellow entrepreneurs and get advice from our team of lawyers and external experts all from the comfort of your office. Everything can be bought quickly and securely via Paypal.If you can't make the date, buy a ticket anyway and you will get the recording.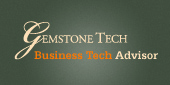 This month's webinar  on Weds 12th November 2014 from 10am-11am focusses on Data Protection and cyber security. We will be welcoming our guest, Narmeen, from Gemstone Tech Ltd which provides independent IT advice for small to medium businesses  thereby empowering them to know what their options are. Narmeen has worked in Technology for 25 years, in a number of customer facing roles as a leader and a troubleshooter. Her experience includes strategic and tactical planning based delivery. Her main focus has been in devising ways of harnessing technology to the needs of the end user.
WHY attend? Because with this new age of tablets, smartphones and PC's, all of us are handling so much data and yet not many of us know how to truly protect it especially if you are an enterpreneur and have left the corporate world. No more IT departments to call to sort out your laptop… You are ON YOUR OWN and you only have to read my blog on some of the current scams to realise how many people are out there to steal your data.
Worse still , if you lose your customers' data , you may be looking at  a fine of up to £500,000 from the Information Commissioner's Office for failing to have taken the appropriate technical measures to protect it. Only recently a business owner lost a memory stick and was fined £80,000 for losing personal data on it.
In this Webinar we will give you the key legal and technical tools to protect your data and your business. Do not wait until you lose it. It will be too late
Sign up NOW for this month's webinar £10+VAT
SUBJECT TO OUR TERMS OF BUSINESS
If in doubt, do call us on 020 8946 2355 or e-mail us at info@offtoseemylawyer.com