One member of the Off To See My Lawyer team recently visited the Contemporary Textiles Fair at Teddington's Landmark Art Centre, and was especially attracted by the unique work of Judith Brown.  The design of Judith's jewellery is based upon her own unique stitching with wire, and her affinity with textiles and vintage haberdashery.  In addition to making and selling her jewellery on-line and at trade fairs, she runs jewellery workshops.
Those of you who are at the early stages of starting a business selling home-made products may be interested to hear about Judith's initial experiences.  She says, "Once I started experimenting with wire I was hooked and started looking for places to sell my work.  I began with a few local galleries and events…  The initial reaction to my work was great, with people commenting on how unusual it was and buying it as well.  It took me a while to hone my designs and understand what sells and what the customer and galleries want."  Furthermore you may wish to follow Judith's blog: www.judithbrownjewellery.blogspot.co.uk or simply visit her website: www.judithbrownjewellery.co.uk
If, like Judith, you are interested in setting up a jewellery-selling business (whether you have designed the pieces or not), we recommend you use the British Library's detailed information sheets on what aspiring jewellers need to consider.  Off To See My Lawyer's "oven ready" document shop provides templates for selling products on-line, and more specifically we have recently developed a version especially tailored for the sale of jewellery.  The Terms of Sale of jewellery on-line are essentially the same as those for the Terms of Sale for other products – in that customers have a general right to return items purchased online within seven days.  We have, however, incorporated into the template contract a few other considerations relevant to the sale of jewellery.  Similarly, Off To See My Lawyer can assist you to set up a business which runs workshops and courses.  Please contact Jo Tall at jo@offtoseemylawyer.com for further details.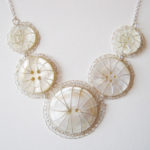 Tags: Advice, entrepreneurship, Female entrepreneur, Legal advice, Small business, story, Website